The images below are from the groundbreaking ceremony held on August 2nd, 2019.  Senator Jeanne Shaheen who spearheads the Recreational Trails Program in the US Senate joined us.  Thanks also to State Senator Dan Feltes, Alexis Rudko from the Bureau of Trails, Commissioner Victoria Sheehan from NHDOT, and a many Concord City Councilors and members of the City Planning Department.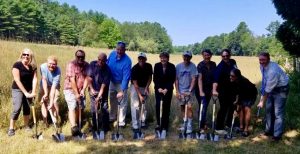 Our first Concord Project!  2.5 miles of beautiful scenery. No road crossings, but access points at both ends and in the middle.
Add your support to this project to help us reach our goal.  This project has received financial support from the New England Grassroots Environmental Fund, from Central New Hampshire Bicycle Coalition, from The NH Bureau of Trails through the Recreational Trails Progam, from Goodales Bike Shops, Runners Alley and Bangor Savings Bank.  But without your help we wont be able to begin to create this trail in the near future.